Maverick Dental Laboratories offers a wide selection of cast partials to fit your patient's oral and economic needs. Cast metal partials are biocompatible, strong, and long-lasting. Your patients will enjoy the comfort and function of these restorations, available in CoCr and Vitallium® alloys.
Our economy partial is a sturdy option that your patient can depend on for years. Fabricated out of a high-quality cobalt-chromium alloy, which is biocompatible and superbly strong.
Fabricated Out of CoCr
Includes Set-Up, Stock Teeth, and Finish
Dependable Strength
Economically Priced
The standard cast partial option from Maverick Dental Laboratories offers increased esthetics and comfort. Crafted out of Vitallium 2000®, these partials are both durable and lightweight for increased flexibility.
Fabricated out of Vitallium 2000®
Includes Set-Up, Dentsply TruExpression™ Teeth, and Ivoclar Ivobase® Finish
Lightweight Framework
Predictable Chair Side Adjustments
When your patient requires the best cast metal partial available, choose the deluxe option from Maverick. Our removable team fabricates the deluxe partial out of Vitallium 2000 Plus® for unparalleled esthetics and comfort.
Includes Set-Up, Dentsply TruExpression™ Teeth, and Ivoclar Ivobase® Finish
Resistant to Deformation and Fracture
Adjustable Chair Side
Twice the Elongation of Regular Vitallium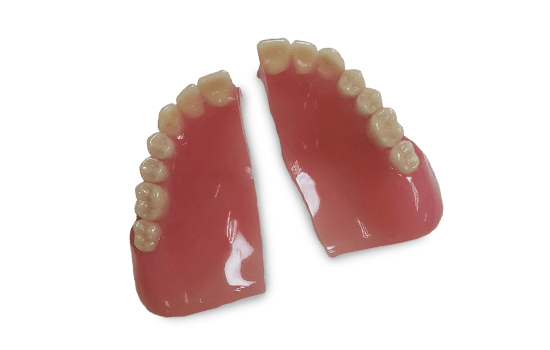 Are You Faced with an Ill-Fitting or Broken Denture?
The Maverick team is happy to provide quick and efficient reline or repair services to all our clinicians. Get you patient smiling again today!