The flexible partials available from Maverick Dental Laboratories offer superior comfort for partially edentulous patients. Unlike their stiff, acrylic or cast counterparts, flexible partials rest more comfortably within a patient's mouth and move with the slightly shifting nature of the partially edentulous arch. If you are in search of high-quality flexible partial, we invite you to check out our two options listed below.
This flexible partial denture is fabricated out of a nylon thermoplastic that allows for unlimited design versatility. In addition to patient-specific esthetics, Valplast® also provide dependable strength and retention.
Metal-Free Design
Reduced Chair Time
Noninvasive Procedure
Unlimited Design Versatility
Duraflex® is crafted out of a polyolefin thermoplastic polymer, which is an excellent alternative for patients allergic to acrylic monomers. Unlike its acrylic and flexible alternatives, Duraflex® is denser and highly resistant to stains and odors.
Stain- and Odor-Resistant
Thin, Lightweight, and Flexible
Clinically Unbreakable
Easily Repaired, Rebased, or Altered with Additional Teeth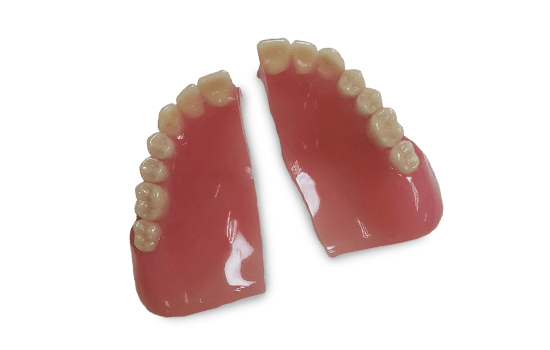 Are You Faced with an Ill-Fitting or Broken Denture?
The Maverick team is happy to provide quick and efficient reline or repair services to all our clinicians. Get you patient smiling again today!