8 Tips for IOS Impressions
1) Use your scanner's Pre-Prep Feature
For cases where you want the lab to capture the anatomy of existing dentition or a provisional mock-up… this feature is extremely helpful!
2) Create a .5mm Line of Sight under the margin, if possible
a. This can be readily accomplished in some cases where there is enough axial height to create a supra-gingival margin.
b. In cases where a sub-gingival margin is required, use tissue retraction techniques to ensure a sub-marginal line of sight for the scanner.
3) Prep with a wide CHAMFER or SHOULDER diamond such as the 6856
This will create sufficient room, for the monolithic zirconia or e.max. Additionally, it will provide an obvious demarcation for our technicians when marking the margins for the crown design. 
 Try out the 856 Round-End Taper Diamond from Maverick Burs!
https://maverickburs.com/product/856-round-end-taper-diamonds/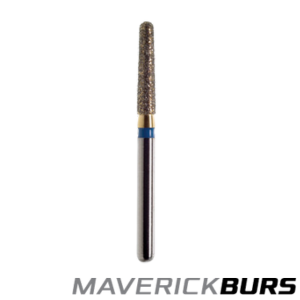 4) Finish prep with a FINE DIAMOND
Do this to refine prep surface such as our 8856. This reduces jagged margins and sharp line angles so that we can create an intimate intaglio fit.
b. Rotary Scalpel- This will help cauterize and conservatively trough tissue. Try the Maverick Burs 535000 Rotary Scalpel!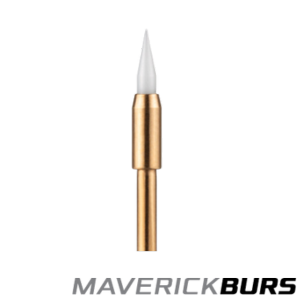 c. Lasers- This will help to conservatively trough and cauterize tissue that overlaps the margin.
6) Create a Dry Environment
Digital impression systems cannot currently scan through blood or saliva. Apply compressed air, cotton balls, and/or saliva evacuators for a dry environment and a clear scan!
7) Capturing a proper bite
a. Be generous when scanning adjacent dentition. 2-3 adjacent teeth will be needed.
b. Always rehearse the bite with the patient prior to recording the bite scan.
c. Make sure the patient isn't clenching during the bite scan. This should be a natural, comfortable position for the patient. 
8) Double check each scan before sending
a. Make sure there are no holes in the prep scan or on the adjacent contact points.
b. Use the scanner's software tools to ensure adequate reduction and make sure there are no undercuts near the margin.