Maverick's removable department team utilizes the latest digital advancements in the fabrication of our range of full denture prosthetics. The use of digital innovation ensures a perfectly fitting denture no matter the price range. We offer economy, standard, and premium dentures that will fulfill your patient's needs and fit in with their budget. In addition, we also offer immediate or transitional dentures to tide your edentulous patient over while they wait for their final prosthetic.
Our economy denture still meets our high standards for perfect fit and quality craftsmanship. Your patient will be highly satisfied by the lifelike function and comfortable suction afforded by our economy dentures. Through the use of the latest equipment, we can ensure your patient will never suffer from slippage.
Includes Set-Up, Stock Teeth, and Finish
Lifelike Function
Odor- and Stain-Resistant Acrylic
Comfortable Fit
When esthetics are of a higher priority for your patient, our standard dentures offer increased lifelike appearance than their economical counterparts. Our removable technicians are artists in their own right and will skillfully craft a removable prosthetic that is lifelike in both function and appearance.
Includes Set-Up, Dentsply TruExpression™ Teeth, and Ivoclar Ivobase® Finish
Increased Esthetics
Odor- and Stain-Resistant Acrylic
Lifelike Fit and Function
Give your edentulous patients the very best option with our premium denture. Expertly crafted by one of our removable artists, every premium denture is nearly indistinguishable from natural dentition. Your patient's smile impacts their confidence and happiness, which is why they will be ecstatic with the highest quality denture available.
Includes Set-Up and Ivoclar Ivobase® Finish.
Characterized with Festooning and Two-Tissue Toning with Color Variations
Available with Your Choice of Teeth
Unparalleled Fit, Function, and Esthetic
Immediate/Transitional Denture
Our immediate or transitional denture is an excellent choice for patients in need of a cost-effective and temporary removable prosthetic. We fabricate all our dentures out of high-quality acrylic, which ensures esthetics and durability for the tenure of the restoration.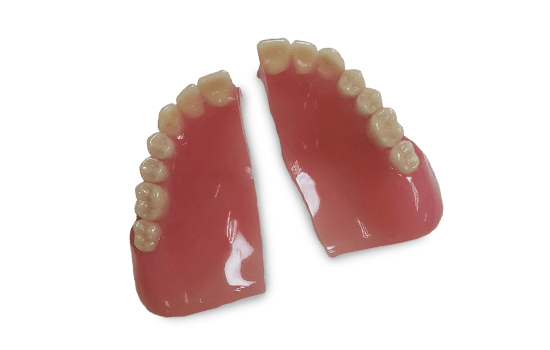 Are You Faced with an Ill-Fitting or Broken Denture?
The Maverick team is happy to provide quick and efficient reline or repair services to all our clinicians. Get you patient smiling again today!